The IJCB 2021 presentations during the main conference have been pre-recorded and submitted to the conference organizers. Just like any other conference, we ask that at least one representative from each paper attends their assigned session.
General
Sessions will be held on Zoom. Regular attendees will be able to join the Zoom calls directly on Whova as described in the instructions for attendees. During the Journal paper Special session, a designated WHOVA administrator will play the pre-recorded 5 or 15 minutes videos for all papers within a session, so there is no need for presenters to share their screens. The presenters will then have the opportunity to answer questions on their work in a Q&A part moderated by one chair.
Here are some tips to make sure you are prepared for your session:
Test your Internet speed. Streaming software usually has Internet speed requirements;
Zoom requires at least 2 Mbps. You may test your Internet speed here:
https://www.speedtest.net/. Let other people in your home know about your presentation so that they won't use too much bandwidth while you're presenting. If your connection is poor, you may want to consider moving to another location with better Internet speed (while abiding by all social-distancing and quarantine guidelines).
Test your audio/video device and make sure it works with the streaming software. The easiest way is to start a Zoom meeting with your friends and see if they can see you and hear from you. You do not need to do this within the Whova app or with the IJCB Zoom link, but you can use your personal (free) Zoom account.
Set up your environment. Choose what background you want to use. Remember that you can also choose from a virtual background provided by Zoom. Make sure the main light source isn't coming from behind you. If you are close to a window, try not to be in darkness. Video Instructions
In preparation of your presentation
Sign in to Whova
We suggest that you use Chrome for the web portal. Some streaming software may have compatibility issues with other browsers.
Go to the IJCB 2021 web link: https://whova.com/portal/webapp/ijcb_202108/
Click "Sign up here" if you don't have an account yet and fill in your email and password.
IMPORTANT: Please make sure to use the email you used when registering for IJCB.
Otherwise it won't allow you to join the event.
The portal will automatically take you to the event main page.

Set up your profile
WHOVA allows you to set up your profile, add a short bio, links to personal pages and other useful information for networking purposes. We recommend each attendee sets up his profile within the WHOVA platform following the steps below:
Click on you name in the upper right corner and select "My Profile"
Upload a profile picture and fill in information.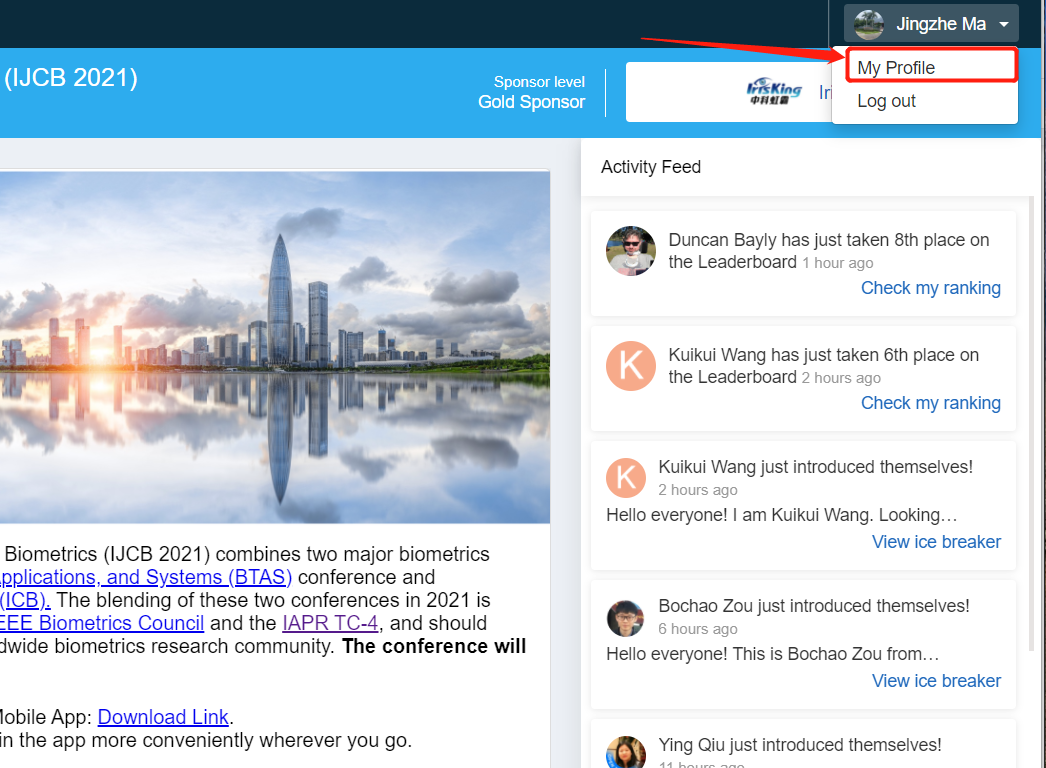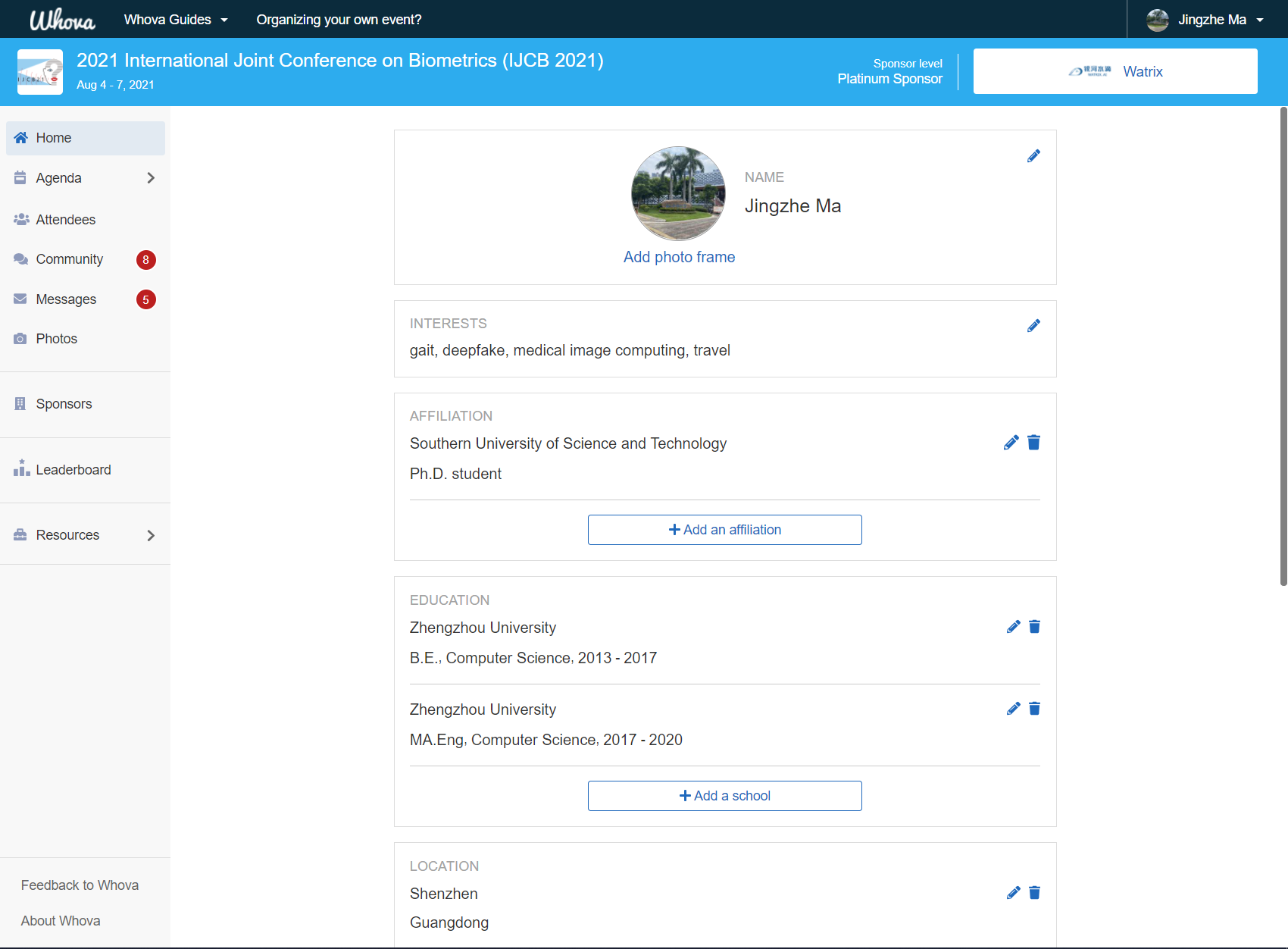 When the conference starts
Presenters are required to be present at the assigned sessions. Please join 10-15 minutes prior to the scheduled session time. You will be assigned as the host of the meeting. When your presentation is scheduled:
Click on the Live Stream link to join the session (example circled in red below)
This will start a Zoom meeting for the live session. The session chair will be serving as hosts for the meeting and you will be able to share your screen to make your presentation and answer questions during the session.
During the presentation, attendees are encouraged to pose questions via Q&A in Whova.